Marcus Wilhelm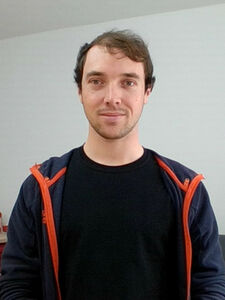 Ph.D. student

Karlsruhe Institute of Technology (KIT)
Institute of Theoretical Informatics


Research interests
I'm interested in solving interesting problems and understanding (interesting) truths (mostly in computation and algorithms). This includes for example:
How can things be computed? How can things be computed efficiently?

Why (and when exactly) are some problems hard to compute?
More specific things will maybe be added to this list at some later point in time
Publications
For a list of my publications, have a look at my dblp-entry.
Teaching
Summer 2021:
Winter 2020/21:
Short CV
from Oct. 2020: PhD student in the group of

Thomas Bläsius

at the Institute of Theoretical Informatics at KIT, Karlsruhe

2020:

Master of Science in IT Systems Engineering

from HPI, title of thesis:

Beating the Worst-Case: Analysis of a Practical Algorithm for Treewidth(download)

Sep. 2018 - Mar. 2019: Internship at SAP Security Research, SAP Labs France, topic: homomorphic encryption of neural networks, see

this paper

2017: Bachelor of Science in Computer Science from the University of Würzburg

Aug. 2016 - Jan. 2017: ERASMUS exchange semester at Blekinge Institute of Technology (BTH), Sweden

2014-2017: Undergraduate Studies in Computer Science at the University of Würzburg